Einhander: after_image
Episode 2
1 year ago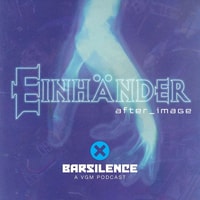 [Episode 2] Achtung! Let's listen to the ground breaking soundtrack of Einhänder composed by Kenichrio Fukui. This 2D side scrolling shooter was released by Squaresoft in 1997 for the original Playstation. So let's suit up and strap in for some amazing late 90s pulse pounding music.
Track Listing:
00:00:00 - Chase
00:04:28 - Street
00:07:08 - Warning
00:11:00 - Bad Lands
00:16:45 - Rebellion
00:18:08 - Breakthrough
00:20:58 - Conflict
00:24:05 - Afterimage
00:27:17 - Dawn
00:31:30 - Factory
00:34:41 - Impatience
00:37:36 - Bloody Battle
00:41:50 - Shudder
barSILENCE is a monthly podcast crafted to celebrate and explore the best game audio from past and present. You're here because you enjoy the same thing that I do, and I am grateful for that.
This episode is brought to you in part by our kind Patreon subscribers, and by our show's sponsor, Bold Pickins Specialty Pickles. Find them in stores near you: boldpickins.com
Shout-outs are also in order for Professor Tom of the Shujin Academy VGM Club Podcast! You can and should check out his show by going to his site.
If you are interested in becoming a member of the Legion of VGM, consider subscribing to the show on Patreon. As a thank you for subscribing, you will get access to an exclusive Bonus Beats show each month! Click here to learn more!
Connect with the show!
Patreon - /barSILENCE
Twitter - @barSilenceVGM
Instagram - @barSILENCE
Threads - @barSILENCE
BlueSky - @barsilencevgm.bsky.social
Tumblr - barSilenceVGM
More ways to listen:
Listen to past episodes at barsilence.com
8Beats Radio - 24/7 VGM Music & Mixes
Terra Player App - VGM & Gaming Podcasts & More
YouTube - Monthly Videos
Support barSILENCE: A Video Game Music Podcast by contributing to their tip jar: https://tips.pinecast.com/jar/barsilence
This podcast is powered by Pinecast.