Let's Get Started!
Episode 0
1 year ago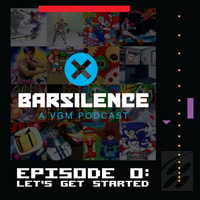 [Episode 0] Thanks for checking out the introductory episode of barSILENCE. Let's get to know each other a bit and then listen to some fantastic music from a variety of games.
Track Listing:
00:00:00 - Take Off - Kenichiro Fukui [Einhander]
00:03:41 - Stage Music 1 - Kazumi Totaka [Super Mario Land 2: 6 Golden Coins]
00:05:30 - Track 1 - Nobuo Uematsu [3-D WorldRunner]
00:08:23 - Jumping Tiger - Sinkon Kiyoshi [Jackie Chan's Action Kung Fu]
00:10:16 - Vs Shadow Team - Kazuo Sawa [Super Dodge Ball]
00:13:23 - Identity Believer - Masashi Kageyama & Naohisa Morota [Gimmick!]
00:16:19 - Morning (Fretless 2 Slap) - Ryu Takami & Ryu Umemoto [Grounseed]
00:20:17 - Ice Groove - Yuzo Koshiro [Super Adventure Island]
00:23:03 - Column Dive - Morihiko Akiyama [Columns III]
00:25:15 - Games of Happiness - Kazumi Totaka [Yoshi Story]
00:27:17 - Opening Title - Norio Hanzawa [Mischief Makers]
00:28:31 - Redial - Jun Chikuma [Bomberman Hero]
00:31:41 - Garage Talk - Asuka Sakai [R4: Ridge Racer Type 4]
00:33:31 - The Apple Market - Makoto Tomozawa [Mega Man Legends]
00:35:28 - Welcome to Station Square - Jun Senoue [Sonic Adventure]
barSILENCE is a monthly podcast crafted to celebrate and explore the best game audio from past and present. You're here because you enjoy the same thing that I do, and I am grateful for that.
This episode is brought to you in part by our kind Patreon subscribers, and by our show's sponsor, Bold Pickins Specialty Pickles. Find them in stores near you: boldpickins.com
Shout-outs are also in order for Professor Tom of the Shujin Academy VGM Club Podcast! You can and should check out his show by going to his site.
If you are interested in becoming a member of the Legion of VGM, consider subscribing to the show on Patreon. As a thank you for subscribing, you will get access to an exclusive Bonus Beats show each month! Click here to learn more!
Connect with the show!
Patreon - /barSILENCE
Twitter - @barSilenceVGM
Instagram - @barSILENCE
Threads - @barSILENCE
BlueSky - @barsilencevgm.bsky.social
Tumblr - barSilenceVGM
More ways to listen:
Listen to past episodes at barsilence.com
8Beats Radio - 24/7 VGM Music & Mixes
Terra Player App - VGM & Gaming Podcasts & More
YouTube - Monthly Videos
Support barSILENCE: A Video Game Music Podcast by contributing to their tip jar: https://tips.pinecast.com/jar/barsilence
This podcast is powered by Pinecast.