Winter Mix
Episode 9
6 months ago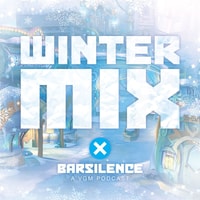 [Episode 9] This month barSILENCE celebrates the chilly and frosty sounds of winter through video game music! Grab a warm drink and chill out to this playlist designed to accompany you on frosty hikes in the woods, shoveling snow, and sitting by the fire.
Special thanks to Aaron, of the Aaron & Tommy: Super Pod Saga Podcast, who requested this episode's final track.
You can find their show here to listen and find them online: linktr.ee/superpodsaga
Track Listing:
00:00 - In A Snow-Bound Land (Donkey Kong Country 2: Diddy's Kong Quest) [David Wise]
03:14 - Intro Section
06:28 - White Ice (Bomberman 64) [Akifumi Tada]
09:00 - Snow Field (Chocobo's Dungeon 2) [Kumi Tanoka]
10:54 - Winterland (Tales of Destiny) [Motoi Sakuraba, Shinji Tamura]
13:07 - Snowpoint City (Day) (Pokemon Diamond & Pearl) [Hitomi Sato]
16:46 - The Boundary Between Snow and Ice (Eternal Sonata) [Motoi Sakuraba]
19:44 - Phantoms (Final Fantasy X) [Junya Nakano]
23:18 - Frosty Frolics (Donkey Kong Country 3: Dixie's Double Trouble!) [Eveline Fischer]
25:35 - Zehgo - Fine Winter Weather (Yuki Shirogane) (Lightning Legend: Daigo No Daibouken) [Ohamo Kotetsu]
27:03 - The Use of Meia (Alundra) [Kohei Tanaka]
29:14 - Mysteries Abound (Final Fantasy XIII) [Masashi Hamauzu]
31:48 - Another Winter (Trials of Mana) [Hiroki Kikuta]
36:41 - Lucid Dream (Cross Code) [Deniz Akbulut]
39:22 - Loading (Wii Food Delivery Channel) [Kazumi Totaka]
40:34 - Holoska (Night) (Sonic Unleashed) [Fumie Kumatani]
46:11 - Christmas on Dobuita Street (Shenmue) [Takenobu Mitsuyoshi]
48:23 - A Wish (Secret of Mana) [Hiroki Kikuta]
50:02 - Winter (The Wind Can Be Still) (Stardew Valley) [Concerned Ape]
52:51 - Outro Section
54:27 - Winters White (Earthbound) [Akio Ohmori, Ritsuo Kamimura, Keiichi Suzuki, Hirokazu Tanaka]
barSILENCE is a monthly podcast crafted to celebrate and explore the best game audio from past and present. You're here because you enjoy the same thing that I do, and I am grateful for that.
Connect with the show!
Twitter - @barSilenceVGM
Instagram - @barSILENCE
Tumblr - barSilenceVGM
Patreon - /barSILENCE
More ways to listen:
Listen to past episodes at barsilence.com
8Beats Radio - 24/7 VGM Music & Mixes
YouTube - Monthly Videos
This podcast is powered by Pinecast.