Announcing 8Beats
Episode 1.5
11 months ago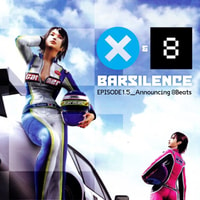 [Episode 1.5] Big news! barSILENCE is taking residency with 8Beats Radio starting this month. This special .5 edition of the show features songs that were discovered while listening to 8Beats Radio and a few additional tracks that will be featured in upcoming shows.
Track Listing:
00:03 - Back in the 2000 by Sota Fujimori [Pro Evolution Soccer 2008]
03:31 - Clickable Beats by Masashi Ogata [Eve: The Lost One]
05:46 - Ordering Fast Food by Kazumi Totaka [Nintendo Food Delivery Channel]
08:06 - GS & Wakaba Bank by Noriko Matsueda & Takahito Eguchi - [Racing Lagoon]
10:26 - Brobudin, The Sun Palace (First Half) by Kenji Ito [Culdcept Saga]
15:00 - Snibbit by Klaus Veen [Lethal League Blaze]
18:14 - Space Pirates by Waterflame [Castle Crashers]
21:48 - Divas by Hiroshi Okubo [R: Racing Evolution]
barSILENCE is a monthly podcast crafted to celebrate and explore the best game audio from past and present. You're here because you enjoy the same thing that I do and I am grateful for that.
Connect with the show!
Twitter - @barSilenceVGM
Instagram - @barSILENCE
Tumblr - barSilenceVGM
Patreon - /barSILENCE
More ways to listen:
Listen to past episodes at barsilence.com
8Beats Radio - 24/7 VGM Music & Mixes
YouTube - Monthly Videos
Support barSILENCE: A VGM Podcast by contributing to their tip jar: https://tips.pinecast.com/jar/barsilence
This podcast is powered by Pinecast.