Halloween Haunts
Episode 7
1 year ago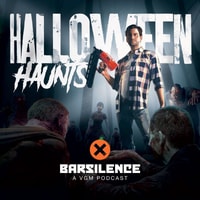 [Episode 7] This month barSILENCE is getting spooky with a special Halloween-themed episode! Enjoy this haunting mixtape-style episode of 18 dark, ghostly ominous, and spine-chilling tracks that are perfect for your October frights.
Track Listing:
00:00:06 - Welcome Guests (Haunting of Magnolia Manor) [Jimmy "Big Giant Circles" Hinson]
00:05:15 - Castle of the Four Gods (Shin Megami Tensei) [Tsukasa Masuko]
00:08:11 - The Workyard (Nightmare Circus) [Kurt Harland, Jim Hedges, Andy Armer]
00:12:23 - Stage 3 (Splatterhouse 3) [Eiko Kaneko]
00:13:48 - Creature of the Night (Nosferatu) [Masanao Akahori]
00:15:14 - The Nightmare is Finally Over... (Clock Tower) [Kouji Niikura]
00:18:05 - Don't Cry, Jennifer (Clock Tower) [Kouji Niikura]
00:21:23 - The One Who is Torn Apart (Xenogears) [Yasunori Mitsuda]
00:23:59 - Never Forgive Me, Never Forget Me (Silent Hill 3) [Akira Yamaoka]
00:26:16 - Haunted House (Super Mario 64) [Koji Kondo]
00:29:19 - Lakebed Temple (The Legend of Zelda: Twilight Princess) [Toru Minegishi, Asuka Ohta, Koji Kondo, Mahito Yokota]
00:31:42 - Deep Sea (Deep Fear) [Kenji Kawai]
00:34:17 - Watch Out! (Parasite Eve 2) [Naoshi Mizuta]
00:37:44 - Looters (Dead Rising 2) [Oleksa Lozowchuk]
00:38:52 - Spiders (Alan Wake's American Nightmare) [Petri Alanko]
00:40:48 - Flesh Eating Zombies (State of Decay) [Jesper Kyd]
00:44:48 - Chance Encounter (State of Decay) [Jesper Kyd]
00:50:30 - Death (FEZ) [Disasterpeace]
barSILENCE is a monthly podcast crafted to celebrate and explore the best game audio from past and present. You're here because you enjoy the same thing that I do, and I am grateful for that.
This episode is brought to you in part by our kind Patreon subscribers, and by our show's sponsor, Bold Pickins Specialty Pickles. Find them in stores near you: boldpickins.com
Shout-outs are also in order for Professor Tom of the Shujin Academy VGM Club Podcast! You can and should check out his show by going to his site.
If you are interested in becoming a member of the Legion of VGM, consider subscribing to the show on Patreon. As a thank you for subscribing, you will get access to an exclusive Bonus Beats show each month! Click here to learn more!
Connect with the show!
Patreon - /barSILENCE
Twitter - @barSilenceVGM
Instagram - @barSILENCE
Threads - @barSILENCE
BlueSky - @barsilencevgm.bsky.social
Tumblr - barSilenceVGM
More ways to listen:
Listen to past episodes at barsilence.com
8Beats Radio - 24/7 VGM Music & Mixes
Terra Player App - VGM & Gaming Podcasts & More
YouTube - Monthly Videos
Support barSILENCE: A Video Game Music Podcast by contributing to their tip jar: https://tips.pinecast.com/jar/barsilence
This podcast is powered by Pinecast.