Halloween Haunts
Episode 7
5 months ago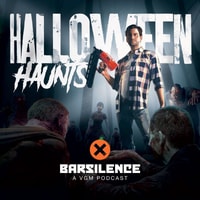 [Episode 7] This month barSILENCE is getting spooky with a special Halloween-themed episode! Enjoy this haunting mixtape-style episode of 18 dark, ghostly ominous, and spine-chilling tracks that are perfect for your October frights.
Track Listing:
00:06 - Welcome Guests (Haunting of Magnolia Manor) [Jimmy "Big Giant Circles" Hinson]
05:15 - Castle of the Four Gods (Shin Megami Tensei) [Tsukasa Masuko]
08:11 - The Workyard (Nightmare Circus) [Kurt Harland, Jim Hedges, Andy Armer]
12:23 - Stage 3 (Splatterhouse 3) [Eiko Kaneko]
13:48 - Creature of the Night (Nosferatu) [Masanao Akahori]
15:14 - The Nightmare is Finally Over... (Clock Tower) [Kouji Niikura]
18:05 - Don't Cry, Jennifer (Clock Tower) [Kouji Niikura]
21:23 - The One Who is Torn Apart (Xenogears) [Yasunori Mitsuda]
23:59 - Never Forgive Me, Never Forget Me (Silent Hill 3) [Akira Yamaoka]
26:16 - Haunted House (Super Mario 64) [Koji Kondo]
29:19 - Lakebed Temple (The Legend of Zelda: Twilight Princess) [Toru Minegishi, Asuka Ohta, Koji Kondo, Mahito Yokota]
31:42 - Deep Sea (Deep Fear) [Kenji Kawai]
34:17 - Watch Out! (Parasite Eve 2) [Naoshi Mizuta]
37:44 - Looters (Dead Rising 2) [Oleksa Lozowchuk]
38:52 - Spiders (Alan Wake's American Nightmare) [Petri Alanko]
40:48 - Flesh Eating Zombies (State of Decay) [Jesper Kyd]
44:48 - Chance Encounter (State of Decay) [Jesper Kyd]
50:30 - Death (FEZ) [Disasterpeace]
barSILENCE is a monthly podcast crafted to celebrate and explore the best game audio from past and present. You're here because you enjoy the same thing that I do, and I am grateful for that.
Connect with the show!
Twitter - @barSilenceVGM
Instagram - @barSILENCE
Tumblr - barSilenceVGM
Patreon - /barSILENCE
More ways to listen:
Listen to past episodes at barsilence.com
8Beats Radio - 24/7 VGM Music & Mixes
YouTube - Monthly Videos
Support barSILENCE: A VGM Podcast by contributing to their tip jar: https://tips.pinecast.com/jar/barsilence
This podcast is powered by Pinecast.