Halloween Haunts 2
Episode 20
1 month ago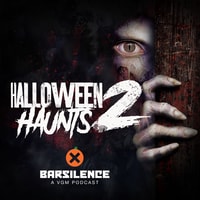 [Episode 20] This month barSILENCE is heading into the haunted mansion for another special Halloween-themed episode!
Let's enjoy October's final day and listen to this haunting and spine-chilling playlist featuring 20 spooky, ghostly ominous, and spooktacular tracks to carry your flashlight to while darkness falls across the land!
Happy Halloween!
Listen to last year's episode: Halloween Haunts
‌Track Listing:
00:00:00 - The Church (Mortal Kombat 3) [Dan Forden]
00:01:54 - Intro - Halloween Haunts 2
00:05:32 - Mantis' Hymn (Metal Gear Solid) [KCE Japan Sound Team]
00:08:22 - House of the Dead (Addams Family Values) [Keith Tinman]
00:13:04 - Tower of Science (Castlevania 64) [Masahiko Kimura, Motoaki Furukawa, Mariko Egawa]
00:15:39 - Credits (Command & Conquer Red Alert 2 - Yuris Revenge) [Frank Klepacki]
00:17:27 - Annex - Silent Madness (Castlevania 64) [Masahiko Kimura, Motoaki Furukawa, Mariko Egawa]
00:19:56 - Abandoned Pit (Castlevania Symphony of the Night) [Michiru Yamane]
00:22:07 - The Front Hall (Resident Evil 2) [Masami Ueda]
00:23:39 - Time (Deep Fear) [Kenji Kawai]
00:26:46 - Dungeon 5 (Eye of the Beholder) [Yuzo Koshiro, Motohiro Kawashima]
00:29:26 - The Future Starts With You (Portal 2) [Mike Morasky]
00:32:32 - Postgasse (Killer7) [Masafumi Takada]
00:35:44 - Breeze - in Monochrome Night (Silent Hill 3) [Akira Yamaoka]
00:39:58 - Great Demon World Forest (Shadows of the Damned) [Akira Yamaoka]
00:41:51 - So Cold His Heart (Alan Wake's American Nightmare) [Petri Alanko]
00:43:53 - Forrest Kaysen (Deadly Premonition) [Riyou Kinugasa, Takuya Kobayashi, Hiromi Mizutani]
00:46:45 - Brahman (Parasite Eve 2) [Naoshi Mizuta]
00:50:00 - Invasion of the Zombie Hoarder (State of Decay) [Jesper Kyd]
00:52:22 - Lifeline: Army Zombie (State of Decay (Year-One Survival Edition) [Jesper Kyd]
00:54:57 - Outro
00:57:01 - Tooth & Claw (Killer Instinct: Killer Cuts) [Robin Beanland]
barSILENCE is a monthly podcast crafted to celebrate and explore the best video game music in the world! You're here because you enjoy the same thing that I do, and I am grateful for that.
This episode is brought to you in part by our kind Patreon subscribers, and by our show's sponsor, Bold Pickins Specialty Pickles. Find them in stores near you: boldpickins.com
Shout-outs are also in order for Professor Tom of the Shujin Academy VGM Club Podcast! You can and should check out his show by going to his site.
If you are interested in becoming a member of the Legion of VGM, consider subscribing to the show on Patreon. As a thank you for subscribing, you will get access to an exclusive Bonus Beats show each month! Click here to learn more!
Connect with the show!
Patreon - /barSILENCE
Twitter - @barSilenceVGM
Instagram - @barSILENCE
Threads - @barSILENCE
BlueSky - @barsilencevgm.bsky.social
Tumblr - barSilenceVGM
More ways to listen:
Listen to past episodes at barsilence.com
8Beats Radio - 24/7 VGM Music & Mixes
Terra Player App - VGM & Gaming Podcasts & More
YouTube - Monthly Videos
This podcast is powered by Pinecast.